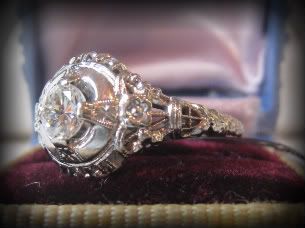 Behold the ring. It's vintage, circa 20's-30's with more filigree than anyone could want, but I adore it. It's white gold with an old european cut diamond.
We went ring shopping together and bounced ideas back and forth with him having the final say. The picture doesn't do it justice, they rarely do.
He gave it to me in an elaborate little box with marble and gold my mom bought (years ago no doubt) for the occasion.
The Proposal itself was at Disneyland at Snow White's well by Sleeping Beauty's castle.
Disneyland has a lot of good memories for me and we frequently go there together, so it was fitting. The occasion was witnessed by two Mexican families, but fairly devoid of
hoopla. He gave me a coin to make a wish in the well, and in true Heatherly fashion, I wished for my mom to make us dinner that night. When I turned he was on one knee (kinda saw it coming) and he said something along the lines of, "Heatherly, my love, will you marry me?"
I contemplated this for a moment. Mostly because I was about to say, "Does the Pope poo in the woods? Is a bear Catholic?", but I stopped myself and managed a straightforward "Yes."
A nice Mexican grandma then took a picture of us and then we headed out and the mass texting began.
I also got a "Just Engaged" button from Disneyland Information. I swear they have a button for everything.