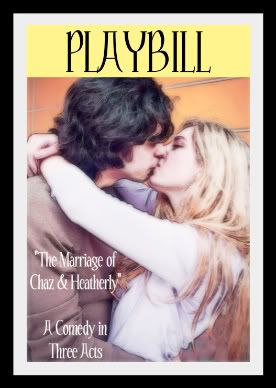 A wedding is a bit of a production. There are costumes, sets, props, directors, producers and a cast of characters. A familiar plot runs through it and the boy (almost always) gets the girl.
I intend to make a bit of fun by turning my wedding program into a script of sorts. Not a micro-managed you-say-this-now, sort of thing, but a whimsical guide to help everyone get involved. Think of the possible structure and tropes I could use.
I could start with the prelude of how boy met girl, and set the scene thus far. Imagine it something like this:
Bride Enters Downstage
(Theme Music: "Liz on Top of the World" Plays)
Guests: "Oooh, Aaaaw"
Bride Joins Ecstatic Groom
Brother: "Let's have a moment to pray..."
Godfather: "A reading from..."
Officiant: "MAIWWAGE, maiwwage is what bwings us togeder today. When wuv, twue wuv..."
~*~
~ Cast ~
Brother: Played by Sean Coyne. Previous projects include starring roles in "Surfers at San-O",
"I Just Had a Baby", and "Street Carnage"
Officiant: Josh Sisco in his debut role. A friend of the couple and cousin to sister-in-law. Before the wedding, Josh plied his talents as a youth pastor.
~*~
A little cheese, but see what I mean? I think it's fun for everyone to feel a part of and be familiar with who is who. What I dread about weddings is either being bored to tears or feeling completely isolated because I know nothing about most the people around me. (That and the marathon ceremony, by the time they bring out the unity candle I want to kill someone. This is also due to the fact I usually haven't eaten yet.) Maybe a little guidebook with some light reading and an acknowledgment of your role in the wedding would help bring a sense of participation.