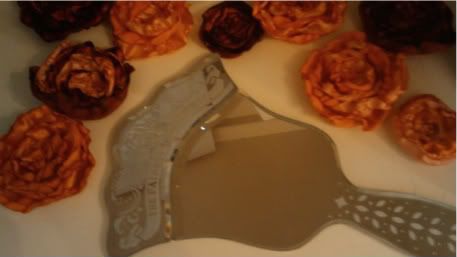 To save some dough and appease my control freak ways, I have opted to do and plan a lot of the wedding myself. I'm at a place in my life where I have both the will and the time to plan this little gala.
Let me say, I love this stuff: decorating, planning, drafting a look. Believe it or not, after a stint as MVP in my sorority, I feel adequately prepared. Being in charge of recruitment entailed decorating a house, picking attire, training 80+ girls, delegating, throwing a "mini wedding" for pref night, and a host of other things. For just pref night, I designed centerpieces, wall hangings, plating of desserts, mantel decor, etc. It was so much fun even when it was overwhelming. You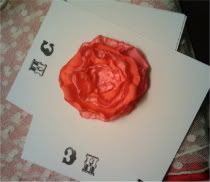 learn how far you will go for the perfect silk carnation and the wonders of velcro. I couldn't have done it without my A-Team of helpful alums, day chairs and my lovely Pres Heather. So I mean it when I say I feel ok when taking on my own bridal shindig, especially when I still have people willing to help out.
As part of my DIY trend, I'm making my own boutonnieres and wrist corsages for the bridesmaids. Mommy and I have made a handful of the main elements, pictured above and to the right. I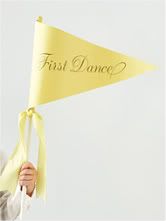 also intend on making "reception flags" via Martha Stewart.
These will be fun for the bridal party (or whoever) to wave and keep everyone updated. I may make one that says "kiss" because waving that will be a lot less potentially destructive than the traditional tapping on the crystal glasses.
Also there is the matter of decorating the tree where I want to get married and the aisles. While I don't care for paper lanterns (everyone and their mother has them) I do like some of the creative twists on them pictured below. I wonder how long it will take to hang them? I only have so much time to do all this and a rather limited pool of helpers. I've recruited two sorority sisters Connie and Lindsay and my family friend Yvonne is being immensely helpful making centerpieces and such. I don't doubt my mom and my bridal retinue will help too. This is the benefit of having 7 bridesmaids, odds are better that someone will rise to the occasion ;-)